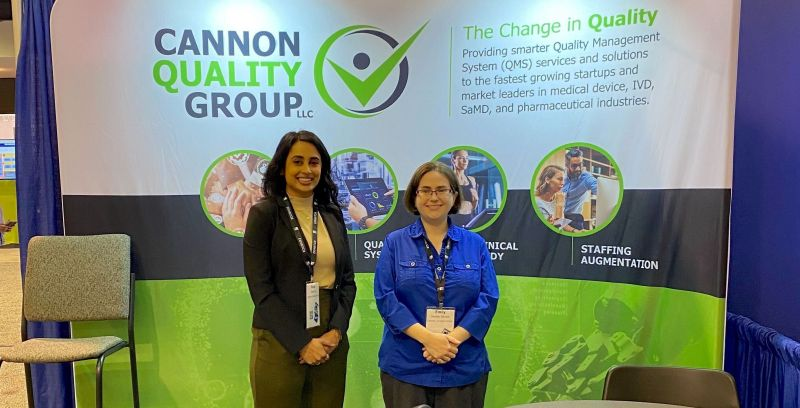 The 2022 World Conference on Quality & Improvement was held May 15-18 in Anaheim, CA. This year's event was hybrid, with both in person and online events available. The focus was the art and science of quality, exploring the "symbiotic relationship between human and scientific aspects of quality management." Cannon Quality Group understands this relationship can be different based on where your company is at in its quality journey, whether you're a start-up or in need of a QMS overhaul.
Cannon Quality Group was excited to host a booth at the event, where Roop Pandahar and Emily Bloom were able to share their expertise with fellow attendees. The pair were able to elaborate on CQGs quality solutions, such as audits, quality system training, ISO 13485:2016 certification, and quality projects. One CQG booth visitor – Russell Wyrick, Executive Director of the New Mexico Small Business Development Center, was lucky enough to win the drone raffle!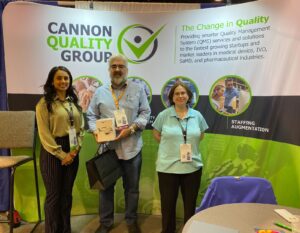 ASQ WCQI 2022 focussed on topics which line up with CQG's core values:
Leading through Excellence: The Master's Series
Engineering an Enterprise-wide QMS
Framing Quality through a Technology Lens
It's Elemental: Quality Basics for Beginners (and Beyond)
After the conference, Quality Engineer Emily Bloom said, "It was a good first time back to conferences in person. We got to network with a lot of people, and everyone was super friendly."
The conference covered state of the art advances in quality management systems, including eQMS solutions, automation and artificial intelligence (AI) in quality. Representatives across the industry were present, from polymers to medical devices.
The pair were able to discuss QMS best practices and how CQG's priorities align with conference topics – identifying how QMS can drive improvements, especially when tailored to fit your business needs. Ditching the one-size-fits-all approach leads to a flexible, agile QMS which meets regulatory requirements while reducing costs.
If you want to learn more about leaving fear-based quality behind and embracing a QMS that is tailored to your business needs, contact us at quality@cannonqg.com.