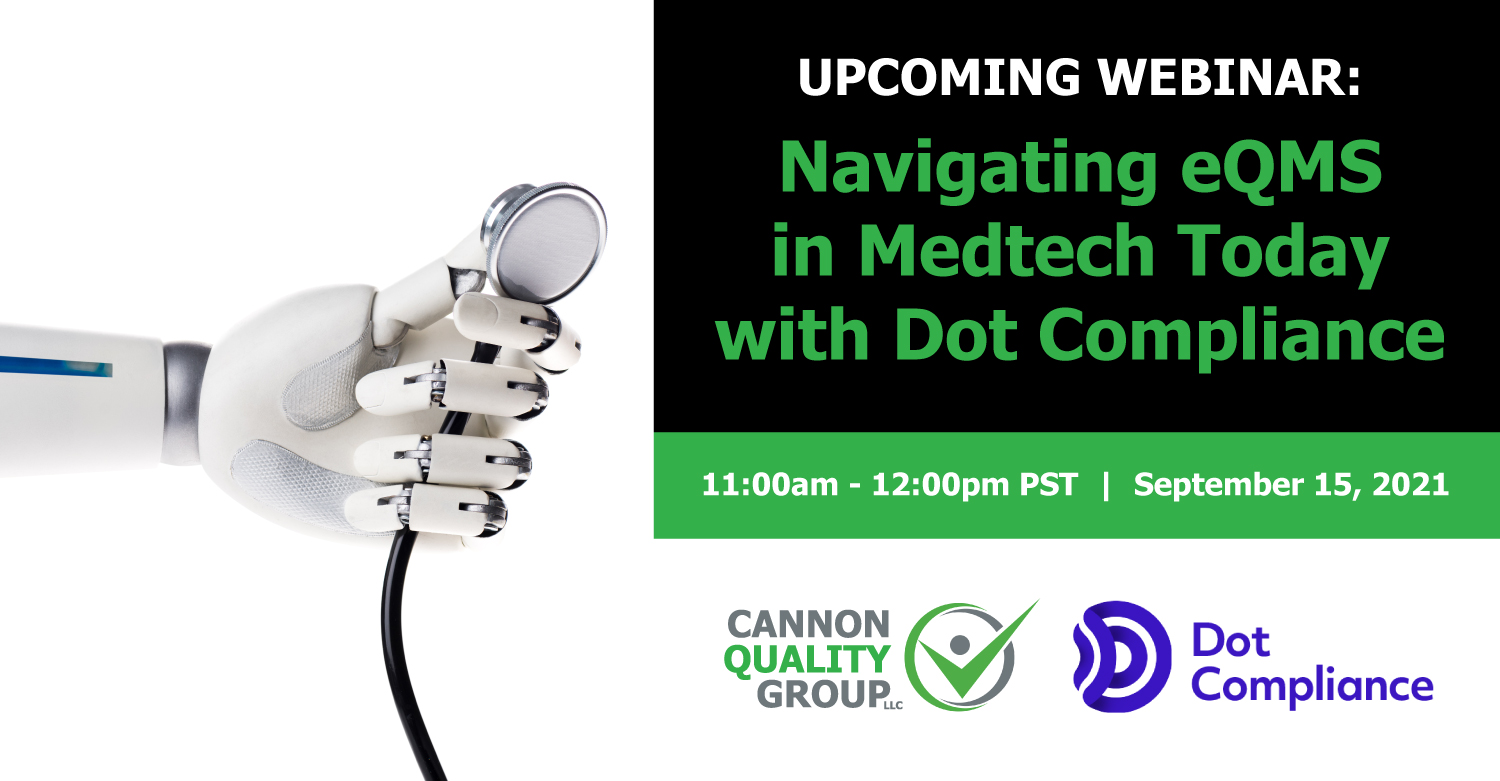 The use of an electronic Quality Management System (eQMS) is becoming standard technology in Medtech companies of all sizes. They offer the promise of automation, improving compliance, reducing cost, increasing productivity, enhancing traceability, and reducing documentation burden. ]
Join us for our next webinar, Navigating eQMS in Medtech Today with Dot Compliance on September 15th at 11:00 a.m. PT. Cannon Quality Group CEO and founder, Nicolle Cannon, along with Mickey Landkof, GM of Dot Compliance North America will discuss how new technologies and deployment methodologies are replacing traditional lengthy, costly and complex QMS implementations. You'll learn not only when you might need to implement an electronic quality management system but also the advantages and latest features of Dot Compliance.
Along with a light demo of Dot Compliance, you'll learn:
When to take the eQMS plunge
How to evaluate platforms based on your business or product type
How to ensure a successful eQMS implementation
How to build better, safer, more effective products by integrating quality throughout the entire product lifecycle from concept to commercialization
How medical device manufacturers can now save time, money, and resources and increase time-to-market by doing away with fully customized solutions – while remaining compliant with industry regulations and standards
How to ensure your organization and outsourced suppliers get the required visibility from early product development – design control, design history files (DHF), and device master records (DMR), through 510K submission support, manufacturing, and ultimately post-market surveillance
How out-of-the-box (OOTB) solutions connect quality and regulatory enforcement, and automate quality processes while continuously monitoring, tracking, and reporting on regulatory requirements
How the Dot Compliance ready-to-use platform helps you mitigate device manufacturing risks while ensuring compliance with regulations such as 21 CFR Part 11, 21 CFR Part 820, GMP, ISO13485, ISO14791, and others
The webinar also includes a Q/A session.
Register Now: https://my.demio.com/ref/K8niZV1vDGKGrkTi