Shared Supplier Audits are saving medtech suppliers multiple days each year!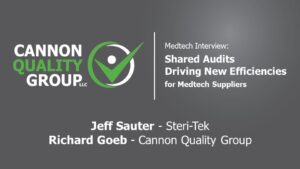 Suppliers to the medtech industry typically conform to FDA or ISO 13485 quality system standards, and face many customer audit demands, with some suppliers hosting multiple audits per week. Smart suppliers are adopting the Shared Supplier Audit concept to consolidate many customers' audits into one. Jeff Sauter from Steri-Tek, a sterilizer, describes the simple steps to make it successful.
Fill out the form on the right and select SSA Video Steri-Tek to receive a link to this engaging and informative video that can save you time and resources in your supplier audits.