Happy Spring! We've got some important updates for you regarding ISO 13485:2016, Shared Supplier Audits, our CQG Team as well as community involvement. Enjoy the latest!
Are You Ready for ISO 13485:2016??
The Team at Cannon Quality Group has been busy helping our clients transition their Quality Systems to meet the ISO 13485:2016 standard by March 2019, as required. A big part of this change is assessing and identifying Risk throughout the QMS. With the new standard, there's greater emphasis on quality management systems throughout the supply chain and product life cycle, as well as device usability and post-market surveillance.
If you haven't yet started to execute your plans for transitioning your QMS, or need help with a post implementation audit, we can assist!
Call or email us today – We're here to help you along the way! Here's a link to make it easy!
Ongoing Team Training
At CQG, we take our client role as "quality professional" very seriously. By staying current with changes in the medical device industry, quality protocols and regulations, we ensure our Team is well versed and empowered to provide sound and reliable guidance where needed. If we don't have the answers, we will do what it takes to find solutions.
Upcoming Community Service
CQG's Team is passionate about giving back (which is part of why we do what we do!) In addition, we like to help our community in any way we can. Some of our Team will be at MedShare's volunteer and distribution center in San Leandro on June 15, 2018 from 9am-12 noon to lend a hand. We would LOVE for you to join us! Please email us here by June 1 to sign up – or for more information.
MedShare is a 501c(3) humanitarian aid organization dedicated to improving the quality of life of people, communities and the planet by sourcing and directly delivering surplus medical supplies and equipment to communities in need around the world.
Shared Supplier Audits Gaining Steam
Upcoming Shared Supplier Audits
Cannon Quality Group has pioneered the idea of shared supplier audits in the medical device community. In a shared supplier audit, a group of clients bands together to perform one audit in place of many. It's the "Uber Pool" of audits! Each participant is consulted beforehand to make sure all agenda items are noted and covered. Each participant gets a customized report at the end. Suppliers like it because it reduces their audit support burden, and clients like it because it saves them time and money. Below is the current list of upcoming shared audits in 2018. Let us know if you'd like to jump on board one of these. If you don't see a supplier of yours on the list, let us know!
If you would like to take part in any of our scheduled Shared Supplier Audits, please email our Audits group: audits@cannonqg.com TODAY, or call 925-944-9468.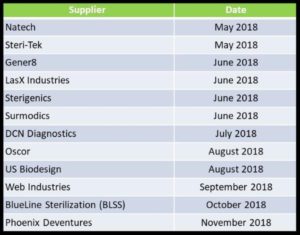 For more on CQG's auditing services and scheduling information, click here.
Core Values
At CQG, we hold every employee accountable to be the change in quality, to pursue integrity and versatility, work with the team, and maintain a healthy balance in their lives.